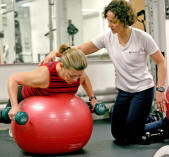 My training programs focus on core stabilization and strengthening for the midsection and lower back as well as my own integrative approach to resistance training for lengthening and toning the musculature without adding muscle bulk.
As each of us is unique with unique bodies and personal goals, further description is impossible. Your training program will be custom tailored to you and your needs.
Each session is designed to challenge and motivate you while being fun!
Call to train with Kim @ (424) 226-6705
Personal Training Sessions: Sessions are one hour in length. Sessions are sold in packages, Private training sessions are in the $100 per session range, email for training packages. Train with a friend for as low as $65 per session.
Our gym is in Santa Monica on 3rd Street Promenade. In home or outdoor training in the Westside area is also available.